That's right. A Roger Dean cover of dudes playing SPACEBALL. Ponder that shiiiiit.
Babe Ruth were a super heavy-proto-metal-prog-funk-blues band from some Hobbit shit-town in England. They had a really hot singer who could wail with the best of 'em. This is their first record and it rules.
The first single off First Base "The Mexican" found popularity in the late 70's and early 80's among the first rappers and breakdancers. Former Village Voice editor Chuck Eddy writes of them in his book
Stairway to Hell

:

The Accidental Evolution of Rock'n'Roll
:

"In 1973, a British art-metal band called Babe Ruth released a song called "The Mexican" that opened with Spanish guitars, then turned into the Doors' "Riders on the Storm" then Ennio Morricone's Sergio-Leone-movie theme "For a Few Dollars More" over an absurdly realized Latin disco rhythm two years before disco existed..."The Mexican" was not a certified hit, but it became a secret cult favorite in discos...then rapped over by Funky Four Plus One and...Soul Sonic Force."
Shelby Cobras hates Led Zeppelin, and while I do not agree with this sentiment, one thing that I am certain of is the Babe Ruth song called "Black Dog" is way better than Zeps's. Observe this epically evil live rendition from 1975:
The rest of the guys in Babe Ruth were not as pretty as singer Jenny Hahn.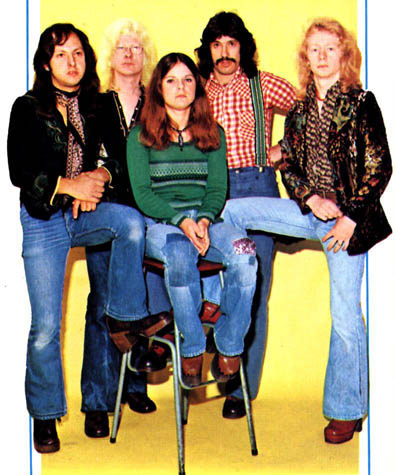 Rule #557 of looking cool in band pics: DON'T HAVE A DUDE IN THE GROUP THAT HAS THE SAME HAIR COLOR AS THE BACKDROP.