A friend of mine was on tour in Germany in the mid 90's when she got hammered and decided to get the knuckle tattoo that she's always wanted, an homage to her favorite food:
"CORN DOGS"
She woke up the next day, still hammered, and found her hands wrapped in bandages. "Oh" she though. "I must have gotten CORN DOGS last night. Sweet." The party continued and later that day when she unwrapped the bandages she found the following knuckle tattoo where CORN DOGS was meant to be:
"FIST FUCK"
Wow. First off. CORN DOGS? What a rad fucking chick. Second, FIST FUCK??? Who did that to her? That guy deserves never ending high fives for life for the best tattoo prank of all time. Now this chick is 40, has a 5 year old daughter, and shows up to PTA meetings with FIST FUCK tattooed on her knuckles. Sometimes, life is a pretty sweet fruit.
If you're considering knuckle tattoos, you first have to choose which format is best for your hands.
Are you going single hand:
Double fist:
Interlocking vertical:
8 letter word:
And finally, the very rare,
too much rock for one hand
:
But the rules are flexible. If your message doesnt fit, fuck it. It's just a tattoo on your hands.
Just add an extra letter:
Or an exclamation point:
Or if you're creative enough, you can fit what should have been 12 characters into the space for 8.
There are just too many good ones. You could do VANHALEN, STAR WARS, WELL HUNG, BLINK182, BUTT RAPE and all kinds of things that would put the breaks on you getting laid ever again. Wait. NEVR LAID. That would be perfect. You could even put the name of your favorite author on a baby.
Who would tattoo a baby?
This guy was standing in aisle ten when it hit him:
This ones actually awesome if the dude is capable of delivering:
Chicks like this are the only reason I haven't moved to Portland already:
This dude submitted his own explanation to the website, "I like to skate and I'm Pilipino". No joke.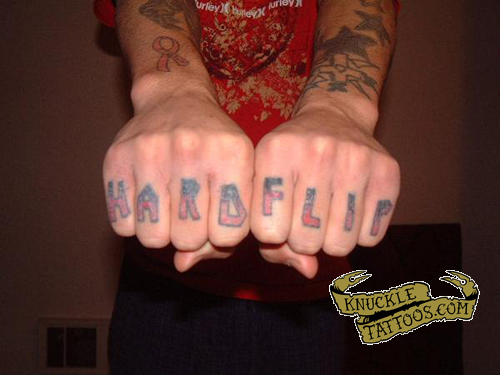 Another explanation, "I'm OCD and fuck you".
This chick looks like the 40 year old version of the chicks I would bone in college. I bet her daughter rebelled by being a bookish hipster who dresses like an old lady.
TO BEING A FAG!
"You know PACK has four lett…" "FUCK YOU! WOLF PAK!"
WHIPPED also has 7 letters
The best part about this one is that if you only see one hand you're going to think a chick who looks like this has a tattoo that says FOOD.
This tattoo is in no way necessary. Look in the fucking mirror lady, why would anyone doubt your ability to rock?
"My hands say TRUE LOVE, but my face says SHIT HERE."
Knuckles tattoos are like an 8 character tweet that you will post 100 times a day for the rest of your life. You better make it good. What do your knuckle tattoos say? What would yours say if you weren't such a huge inkless puss?
Special thanks to knuckletattoos.com