A few weeks back Shelbro posted the first
Drunk Horse
record and I'm sure everyone who got turned on to this band was thoroughly stoked. Anyone who's seen or heard this band knows that while they were around they completely ruled the scene with a bizarre combination of tasteful, classical chops, and irreverently silly, tongue and cheek shreddery. Sure, they all went to music school and sure they sometimes got caught wearing a sweater or something like that, but D Horse still ruled, and they rocked everyone form the troo-est metal fan to the indiest douche. Their riffs were better than yours, their songs were better than yours, and somehow, they even managed to out hesh you.
I say, "while they were around" because despite not being officially disbanded, the last few years have been particularly sparse in terms of live shows. Eli and Joel got all busy with Howlin Rain and Cyrus has been touring with Saviours pretty much non stop since 07. BUT, bad news for Saviours fans is good news for Drunk Horse fans, as recently Cyrus has chosen to ease way back on the touring schedule, leaving Saviours and recommitting to more time with the Horse. Did anybody catch them in January with Trainwreck? I'm sure they ripped.
To celebrate what I hope will be a mighty and triumphant return to D Horse rule, I'm offering up both Drunk Horse 7"s from '01 and '02.
Now for some reason the only jpgs of these 7"s I could dig up are small and shitty, so if you can find better ones, please post them. The first is the Bambi/Dirty Mind 7", two Prince covers recorded by Tim Green and released on purple vinyl.
pretty shitty, huh?
The second is Unearthed Gems Vol 2, two "covers" by Sri Lankan '80s metallers Zilla (whose album was called Heavy Yeti) and '70s Cali bar-rockers Andy Sherman And The Sherms. Do these bands exist? No, they do not. Was there a volume 1?. No. Drunk Horse rules, don't question them.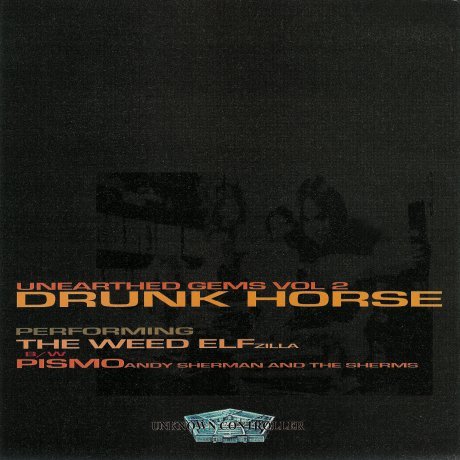 man, these images are shitty
If you want to get your hands on the original vinyl copies you'll have to go to Cyrus's house and rummage through his closet (or remind him to mail you some, ahem). If that's not an option, get both of them right here:
UPDATE: Files have been fixed, let's try this again.
Bambi
Unearthed Gems Vol. 2
If you want me to put up the rest of the Drunkography (Adult Situations, Tanning Salon/ Biblical Proportions, and In Tongues) just let me know and I'll do it. But they're all relatively easy to find, I'm sure you can figure it out.
Here's to the horse, we're stoked they're coming bach.